Walking in the Algarve
Walking in the Algarve. Especially for active hikers who come to enjoy the winter sun in one of our flats or holiday villa in the Algarve. For them, some of the most beautiful walking routes in the Algarve have been marked out. One of them is the well-known Via Algarviana. This is a walking route of 300 km. It starts at Alcoutim, a beautiful border village with the medieval castle Castelo Velho. Situated at the Guadiana river forming the border and separating Spain from Portugal. The walking route takes you through the most beautiful parts of the Algarve. All the way to the west where it ends at the Cabo de Sao Vicente above Sagres. This impressive cape forms the most south-westerly point of Europe where the high waves of the Atlantic Ocean pounding against the rocky coast.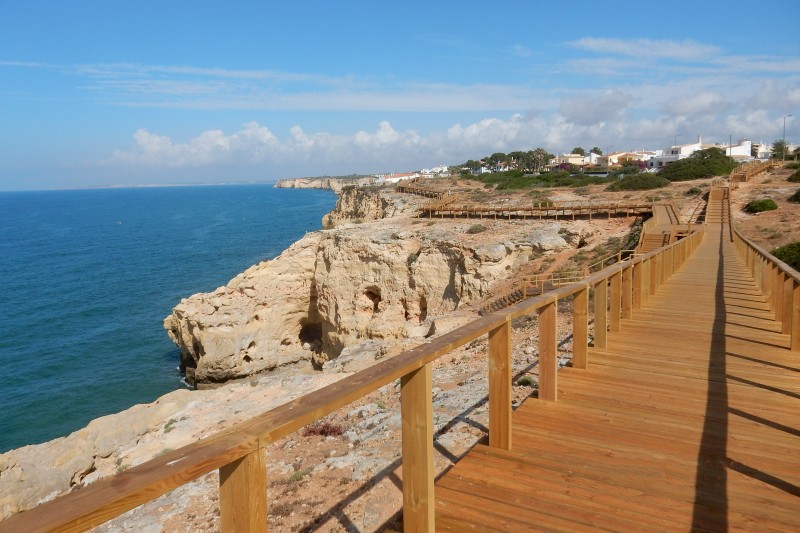 But, if you are looking for something closer to home and you are spending the winter in Carvoeiro, use the evening-lit Carvoeiro boardwalk to walk. From Algar Seco, at the end of the road opposite your holiday flat, along the rocky coastline until you reach the Praia do Carvoeiro beach in the centre of the village. A romantic experience on a sunny winter day or a sultry winter evening. Of course, there are many other possibilities to enjoy the Algarve in the wintertime while walking.
Also download the PDF: A destination for Nature lovers!