Public Transport in the Algarve
Public Transport in the Algarve. Most older people/senior citizens and winter visitors fly to Faro in the Algarve. Practical, because a flight from a European airport to the south of Portugal takes only about 2.5 – 3 hours. For those who enjoy a road trip, travelling to the Algarve in your own car is convenient. The only requirement is that you have third-party insurance, which, of course, is also the case in Europe. If your MOT date falls on your winter holiday, it can be done in Seville, Spain.
You can rent a car or use Public Transport in the Algarve.
For the adventurous traveller, an environmentally friendly relaxing train journey is also an option. However, this takes longer as you have to change trains in Paris, Lisbon and Faro and then drive along the coast to Lagoa or Portimao. A good and relaxed way to see a lot on the way and to visit beautiful places like Bordeaux, Biarritz, Burgos, Guggenheim Museum in Bilbao, Salamanca. But for those who want to start their winter holiday quicker, a flight to Faro is the most practical.
For those who have booked with a travel agency, a transfer is usually arranged from the international airport. For those who don't have a transfer waiting, there are several options. A comfortable and quick solution to get to your holiday destination is a taxi. Not the cheapest way to travel but service to the front door is a good option. The cheapest way is to arrange a shuttle service from the airport. They do stop at several places to drop off passengers along the way but it is not expensive and it is comfortable. Public transport such as the EVA Transportes bus is cheap and runs frequently, especially from Carvoeiro to Lagoa, but you should expect the journey to take longer.
Portimao with Praia da Rocha as beach Resort
In the city of Portimao, where our flat Vila Arade is located, electric buses run; clean, with little noise and cheap. Renting a car is the option that offers the most freedom and need not be expensive, especially in the winter season. You can also rent a car for shorter periods, so not for the entire time you are wintering. Then you can make nice trips and explore the beautiful Algarve.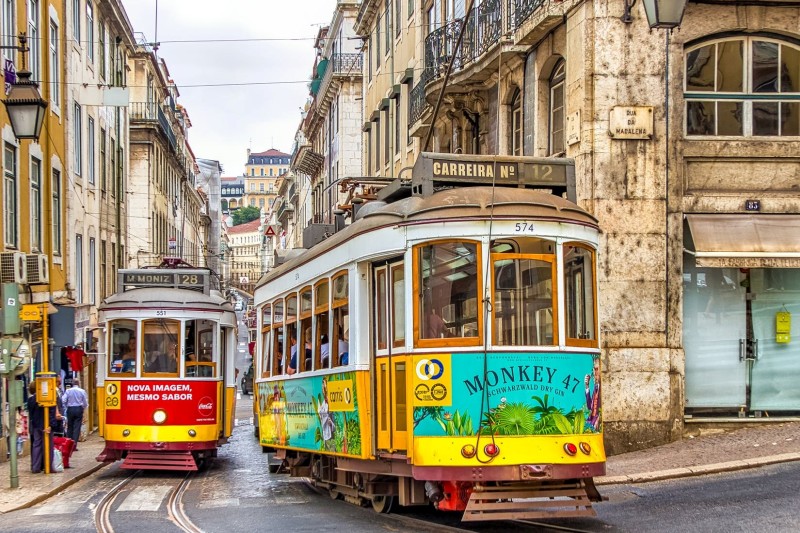 Even at home in your native country, you can reserve a car online so that it is ready and waiting for you upon arrival. We recommend our guests to do this at the well-known www.Faroairport-carrental.com website. Of course, it is also possible to arrange a car at your overwinter destination. Hiring a car during the winter gives you mobility. Go wherever you want, handy for making trips such as to the mountainous Monchique, but also for shopping.
Nearby supermarkets
For a visit to the large supermarkets such as Modelo Continente or the Algarve Shopping Centre at Guia towards Albufeira, a car is no luxury. Especially for those who are less able to walk, renting a car is practical.